Bigs Ministry at Mosaic Church
DESCRIPTION:
In our Bigs Ministry (Kindergarten-5th Grades), we want to establish a firm foundation in the Gospel for our kids. We want for the kids to learn that they can trust Jesus and to experience the family of God, and we hope to partner with families in discipling their kids.
Our volunteers are required to be trained and screened, and we maintain strict teacher-to-child ratios to ensure safe care. For health standards, children must be free from fever or symptoms of contagious disease for 24 hours. Let us know of any allergies or medical conditions your child may have.
ProgramminG:
We offer programming at the following times:
Sundays @ 9:30 (Elevate) – In Elevate, we are raising up next generation leaders. It is a dedicated time of discipleship for all our kids and students. It is being offered for kids 2 months to 12th grade. Mosaic Kids is using the TRU Curriculum from David C. Cook. Pick-up from Elevate occurs at 10:15 am, so that Bigs can attend worship with their families.
Sundays @ 10:30 (During Worship Service) – All of our Bigs attend the worship portion of service with their parents. Kids are like sponges when it comes learning, and they learn so much from being with and watching their parents during worship. Parents have the most important role of modeling what it looks to be a disciple of Christ to their kids.
Kindergarten-2nd – These grades will be dismissed prior to the sermon to attend Bigs Church in the Chapel. Our Bigs that attend use 252 Kids Curriculum from Think Orange.
Grades 3rd-5th – We believe our older Bigs (3rd-5th grade) benefit most from learning the rhythms of the main service. This is an important age in their developmental walk with Christ. We believe there is no "junior Holy Spirit". Staying in Service allows our students to see a model of what it looks like to walk with Christ daily, weekly, and through the seasons of their life.
check-in:
Check-in opens 15 minutes before programming/service. You can find a check-in station down the right hallway of the main lobby as well as at the entrance of the Littles Building (furthest metal building from the Sanctuary). A check-in volunteer can assist with ensuring your child is taken to the correct space.
To ensure a smooth check-in process, families are encouraged to add guardians and kids to Church Center before arriving. We have created a form that will automatically add your family to Church Center.
If you've already registered with Church Center via the app and need to make edits to your profile or have encountered issues with your profile at Sunday check-in, please email us.
stay connected
If you'd like to stay connected to Mosaic Kids, receive monthly updates, event updates and Bible memory verses, subscribe to the Mosaic Kids monthly newsletter.
---
Meet our Bigs Team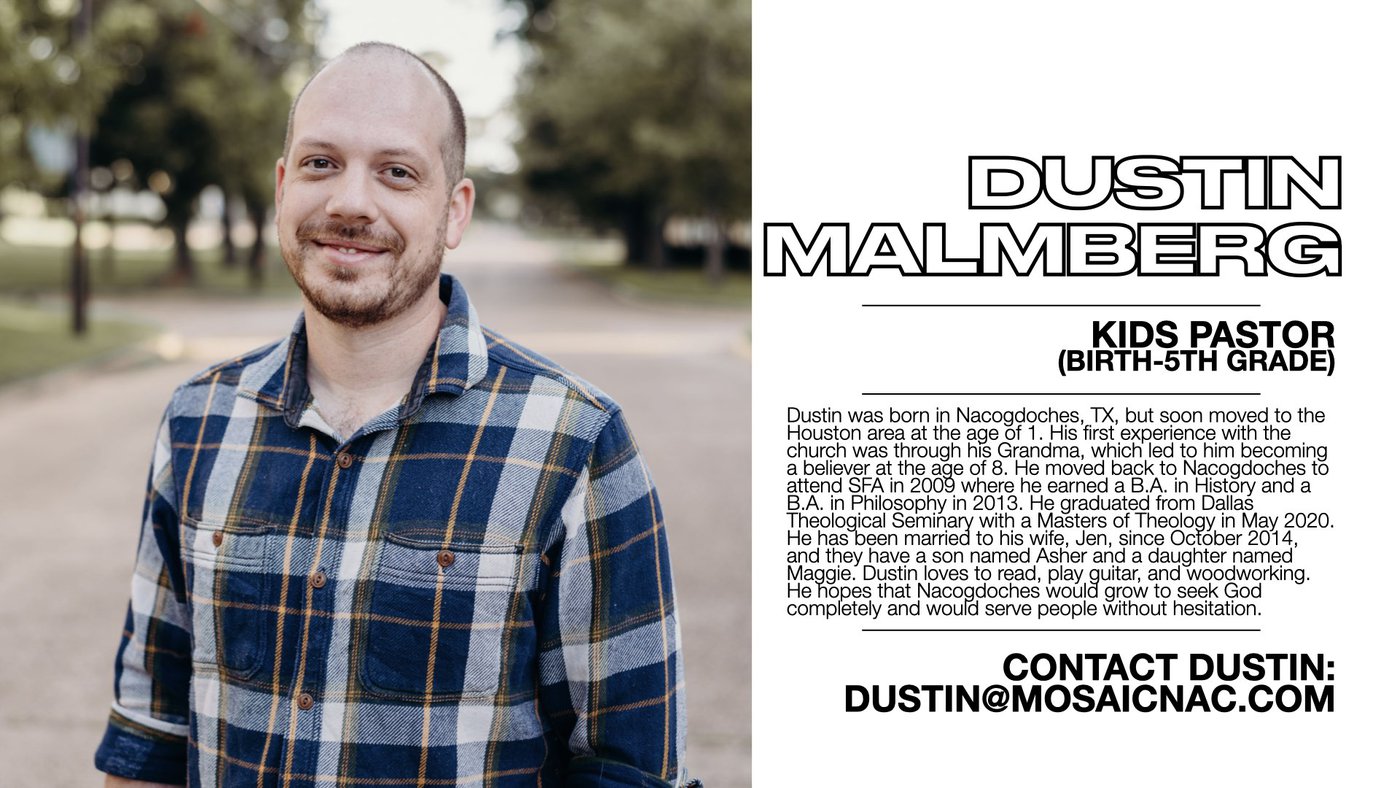 Got questions?
If you have further questions concerning our Mosaic Kids experience or visiting Mosaic Church with children, simply click the button below and get in touch with us!