---
John Reading Plan:
Take a few minutes to thank God for a new day. Grab a journal and a Bible and ask him to meet with you and speak as you read his Word. Read through the passage 2-3 times on your own, and then watch the video. When the video is over, answer two questions:
God, what are you saying to me today?
What am I going to do about it?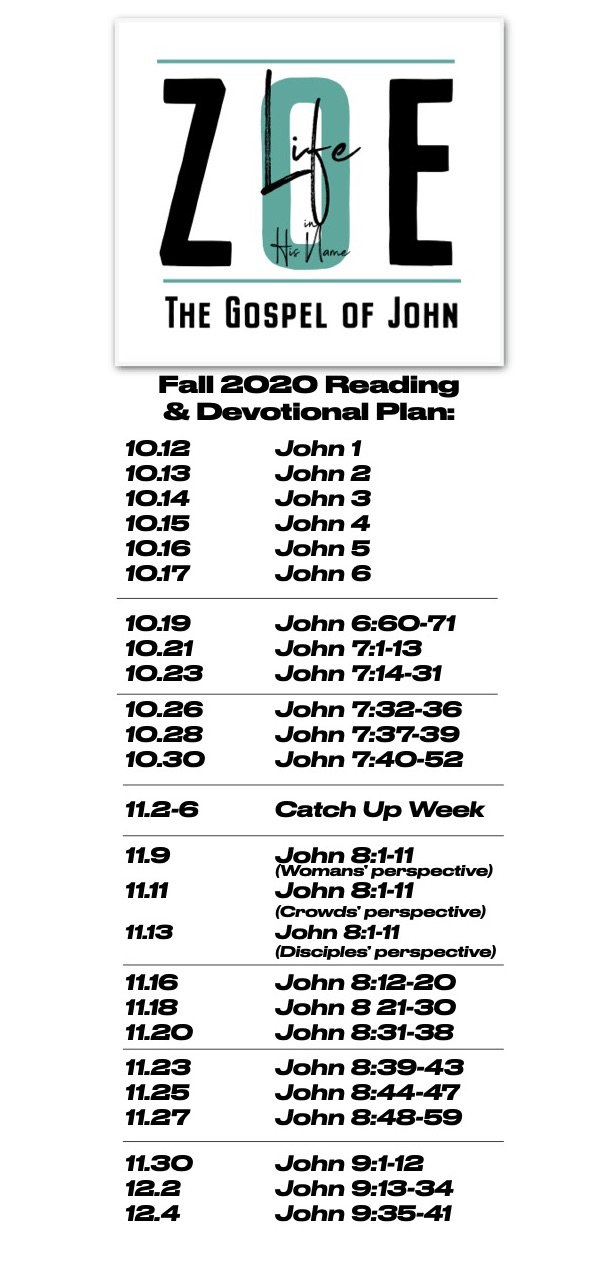 ---
Welcome!
---
Monday, October 12th- John 1
---
Tuesday, October 13th- John 2
---
Wednesday, October 14th- John 3
---
Thursday, October 15th- John 4
---
Friday, October 16th- John 5
---
Saturday, October 17th- John 6
---
Monday, October 19th- John 6:60-71
---
Wednesday, October 21st- John 7:1-13
---
Friday, October 23rd- John 7:14-31
---
Monday, October 26th- John 7:32-36
---
Wednesday, October 28th- John 7:37-39
---
Friday, October 30th- John 7:40-52
---
Monday, November 9th- John 8:1-11 (Part 1)
---
Wednesday, November 11th- John 8:1-11 (Part 2)
---
Friday, November 13th- John 8:1-11 (Part 3)
---
Monday, November 16th- John 8:12-20
---
Wednesday, November 18th- John 8:21-30
---
Friday, November 20th- John 8:31-38
---
Monday, November 23rd- John 8:39-43
---
Wednesday, November 25th- John 8:44-47
---
Friday, November 27th- John 8:48-59
---
Monday, November 30th- John 9:1-12
---
Wednesday, December 2nd- John 9:13-34
---
Friday, December 4th- John 9:35-41