Mosaic is a family of MicroChurches who meet throughout our city to pursue connection with every door, every dorm & every social network in Nacogdoches.
What is a microchurch?
A 'MicroChurch' (or MC) is our terminology for groups. We formerly called these 'Community Groups' but changed the name to express something critical- These are not an addition to church, they are the essence of church.
When most people think about 'Church', they immediately think about a building or a worship service. While we love our Worship Services, we want to be careful in our terminology to help people remember that worship services are a valuable and central part of what we do as a church, but services themselves are not 'church'.
Biblically, the church is a family who gathers together for worship as a large family and scatters throughout the city to live as families and daily disciples who impact their part of the world.
In other words, we don't GO to church, are ARE the church. Church isn't something that we DO, it is something that we seek to BE. MicroChurches are where we seek to BE the church together.
why microchurches are critical to mosaic
Mosaic has a simple, yet audacious vision for our next 10 years:
Mosaic's Vision is to Connect with EVERY DOOR, DORM, AND SOCIAL NETWORK of Nacogdoches.
We love it when people come to us. We are honored when people come to worship with us on Sundays. However, we have a desire to reach our city and we realize that a very small percentage of people are going to come to us. That's precisely why Jesus called all Christians to 'Go and Make Disciples'.
Our MicroChurches (MC's) are Families on Mission who help us turn that vision into a reality.
Each MicroChurch functions as a family where people can connect with one another and find people who love them, as well as a place where the mission to connect with every door, dorm and social network in Nacogdoches is carried out in a unique way. Each MicroChurch is a family with a stated mission connected to the Vision of Mosaic Church.
We encourage people to either find a currently existing MC and get plugged in with them, or to prayerfully consider starting a MC to a door (neighborhood), dorm (part of SFA's campus), or social network.
what do microchurches do?
MicroChurches are 'families on mission'. They are typically made up of 2-40 people and seek to both live as a family and carry out a mission.
Practically, we ask MC's to balance two critical parts of church: Evangelism & Discipleship.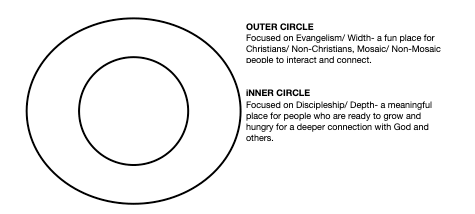 Evangelism in MC's
Each MC will engage in some regular activity to invite friends, neighbors, and co-workers into so that relationships can be formed. The goal is that these MC's become a family for any person who feels disconnected and dissatisfied with life.
Discipleship in MC's
The MC'S will create places for deeper growth for anyone in the family looking for a deeper connection with God. This will look different depending on the group, but are critical so that the groups not only engage the city and grow wider, but help individuals grow deeper as disciples of Jesus.
where do you fit?
There might be an already existing MC that fits you perfectly. We encourage people to check out our MC's and jump in to one that you feel at home in.
It is also very possible that you have an MC in mind that doesn't yet exist. In order to reach our 10 year target and connect with every door, dorm and social network in Nacogdoches, we need people connected in different places who are willing to start a MC that can engage with them. If you are interested in starting a new MC in the future, please fill out the form below and we will be in contact with you soon.